About | EPK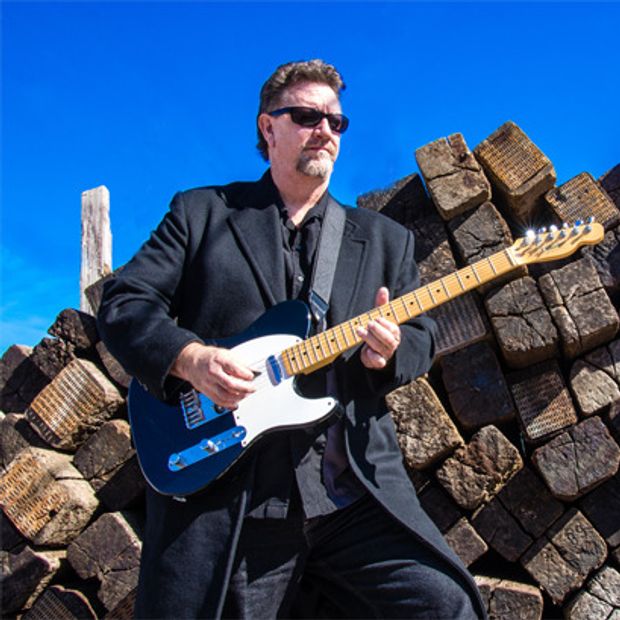 About RB Stone
"A bluesman who has been there and done that. This guy has been down all sorts of gravel roads, often face-first." – Blues Revue
RB Stone is not who you think he is. Far from the average American bluesman, RB Stone is a man who has lived to tell the tale, whose blood runs thick with the stuff blues and country songs are made of. He's been called a Blues Cowboy, Country Bluesman, Americana Artist and Roots Rocker, and he answers yes to all.
As a teen, RB left home and joined a 90-man rail gang traveling the Midwest before settling down into blue collar trade work that found him itching for adventure. At 23, he left Ohio with only a truck, some harps, and a guitar and headed to Colorado to work as a cowboy. RB found lodging in a barn on an Indian Reservation in Ignacio where he learned horses by day and taught himself guitar at night. His music-loving parents had instilled in their son a passion for blues and rock and roll, and it finally took hold of him out here in the West, where he began entertaining guests of local outfitters by the campfire. 
RB's life and career have taken many twists and turns, and he's got both bruises and significant accomplishments to show for it. As an independent musician, he has 18 albums under his belt, has toured 32 countries and five continents, and sold over 40,000 albums at his shows and festivals across the world. He has a song catalog with Gwen Gordy of the Motown Dynasty at EMI. He's had principal roles in national commercials, appeared in national music videos, and his songs have been recorded by artists such as The Marshall Tucker Band. RB has worked with acts such as Hiroshima and The Charlie Daniels Band. Billboard Magazine honored RB with a songwriting award, and the man's not stopping any time soon.
Notable Festivals & Events
North Atlantic Blues Fest (Rockland, Maine)
Buckingham Blues Fest (Tice, Florida) - headlined
Hippie Living Fest (Angola, IN)
Cincinnati Winter Blues Fest - headlined
San Diego Blues Fest
Full Throttle (Sturgis, SD)
Sunbanks Rhythm & Blues Fest (Electric City, WA)
Crossroads Arena Monster Truck Show (Corinth, MS)
Space Coast Harley (Palm Bay, FL)
Bayfront Blues Fest (Duluth, MN)
Gloucester Blues Festival (Gloucester, MA)
Harley Davidson Pavillion (Sturgis, SD)
Blues & Bones Blues Fest (Eagle, ID)
Kelley's Island Wine Company Songwriter Fest (Kelley's Island, OH)
Notable Venues & House Concerts
Skyline Events Center (Comins, MI)
Natalie's (Columbus, OH)
The Brickyard (Scarbourough, ME)
Over Yonder House Concerts (Toledo, OH)
Under the Oak House Concerts / Music by the Bay (St. Petersburg, FL)
Frog Pond Blue Moon Farm (Silver Hill, AL)
Silver Maple House Concerts (New Eagle, PA)
Dogwood Center for the Performing Arts (Fremont, MI)
KJ's Hideaway Music House (St. Paul, MN)
Father Robert V. Carney Performing Arts Center (Milwaukee, WI)
Rocco's (Jasper, GA)
Sportsmen's Tavern (Buffalo, NY)
The Yard (Tampa, FL)
AWARDS
Billboard Magazine Songwriting Award for "Daddy Hide Your Daughters"

Excellent Performance & Service Awards from over 30 military bases across the world

ICMA Lifetime Career Achievement Award Nominee

Media of Excellence Award

2014 Blues Blast Magazine Rock Blues Album Nominee

 Grand Master, 2012 Music Row Songwriter Fest (Nashville, TN)
ENDORSEMENTS
Wayne Richard Charvelle Electric Guitars
John Nickel Cigar Box Guitars
Swamp East Cigar Box Guitars
Cap'n Ron's Lobo Cigar Box Guitars
Mainly Cigar Box Guitars
Performance Videos (Full Band)
Performance Videos (Solo)
Press & Performance reviews
Files for Presenters, Bookers & Press